Posted by:
Andrei
in
Database
,
Oracle
As I had a request and I must agree it really makes sense, I developed a console version of the DBF2Oracle tool. Functionality is the same, just that you need to give it parameters from command line.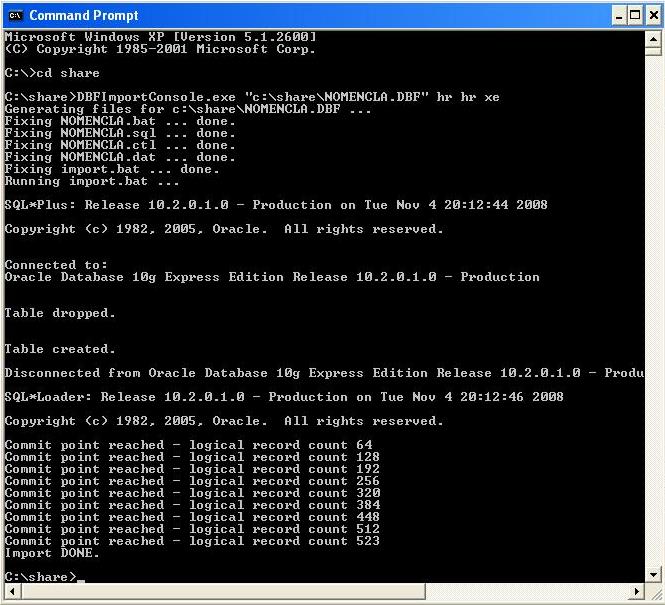 Usage is:
C:\>DBFImportConsole.exe [file] [username] [password] [TNS]

Example
C:\>DBFImportConsole.exe "C:\test.dbf" HR HR XE
In the end it will give you (hopefully) a result as above.
How to use it:
Make sure that you have .Net Framework 2.0 installed
Make sure that you have an available Oracle 10g or 11g database
Download the DBF2OracleConsole from here
Unzip it into a folder close to root folder and avoid spaces in path
Copy the .DBF file to the above folder or put it into the same kind of folder
Run the console application and supply all parameters in the command line
Check the log and statistics file
Connect to Oracle to see your data (table name is DBF file name)
Download here: DBF2OracleConsole.zip
As an alternative, you can use this file, archived with 7-Zip: DBF2OracleConsole_
In my test here is how the folder looks like:


If you will find it useful or if you have any kind of suggestions just leave a comment.
Good luck!
Read also:

console
,
dbase
,
dbf
,
foxpro
,
import
,
migration
,
oracle