Posted by:
Andrei
in
Database
,
Oracle
In order to do an automatic migration from Firebird to Oracle the only fully automatic process for Tables and Data is make a 2-step migration:
– Firebird to MySQL with MySQL Migration tool
– MySQL to Oracle with SQL Developer Migration Workbench
..but first:
Firebird connection through JDBC on Windows

I downloaded Firebird 1.5 which comes with a demo database Employee.fbd.
After this I downloaded SquirrelSQL, a cross-platform open-source JavaSQL Client which uses JDBC connection to a large number of databases. Firebird is one of them and as long as Firebird comes just with a console application, I found SquirrelSQL very useful.
In order to connect to Firebird through JDBC you will need
1. Install JDK into a convenient location, preferred C:\Java in order not to use spaces in the path.
2. Copy JayBird jar file to C:\Java\lib or add it to the CLASSPATH environment variable
3. Add jaybird21.dll to system path (I copied it to the system32 folder).
4. Start SquirrelSQL and try to connect to the Firebird JayBird driver in the drivers pane until it will appear with a blue check icon.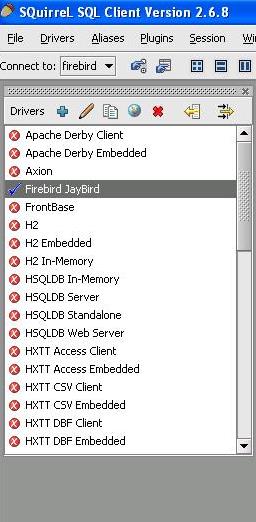 5. The class name should be org.firebirdsql.jdbc.FBDriver and make sure that jaybird jar file is present into the Java Class path. If it's blue then means that the driver is active and we can test it.

6. We should first create a new alias for employee database in the Firebird aliases.conf file. After creating such an alias, the connection string should be "jdbc:firebirdsql:localhost/3050:employee", username/password are sysdba/masterkey (default ones).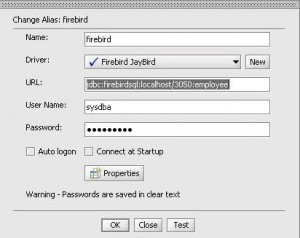 7. You are connected. you will see the objects list, data, DDL, whatever you need.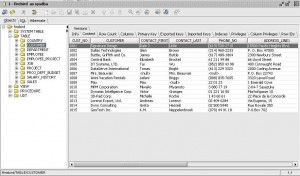 The next step is migration from Firebird to MySQL (the temporary host)
Good luck!
Read also:

firebird
,
jaybird
,
jdbc
,
jdk
,
migration
,
mysql
,
oracle