Posted by:
Andrei
in
Gadgets
,
Personal
,
Web
Total Commander – File Manager – I am using it since version 3, ~10 year ago. Simply not replaceable.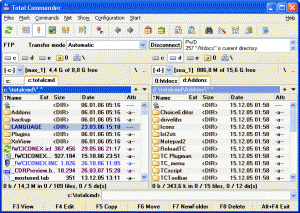 Pidgin – Instant Messaging – Single client for all protocols, including Oracle internal one.
Launchy – Application Launcher – just press ALT+Space and write a few letters from app name to start it
MPlayer – Movie Player – no GUI, just console, very quick, no need to install codecs. Some issues with external monitor.
Firefox – of course, user since version 0.9 Beta
Dropbox – File Sync – simple sync of some folders between laptops or laptop and desktop. As a bonus files are stored online and you get revisions history
Google Mail – Personal Email – lot of space, even bought extra. Can also use it to read other POP3 accounts, all in a single interface.
Google Reader – RSS reader – the best RSS reader
Google Calendar – Calendar – simple to use, simple to share, to sync. Can also use it to read other calendars.
TripIt – Booking Manager – just forward all the travel plans to Tripit and you'll have your itinerary ready, published as a web calendar, links to online check-in and other usefull stuff.
Related posts:

download
,
free
,
tips
,
tools