Posted by:
Andrei
in
Oracle
,
Personal
,
Programming
,
Web
I'm a constant user of Google Analytics. It's a great piece of software with lots of useful reports, easy to read and to understand. However, I was never curious how far I can go with it.
Last week I had a discussion with someone in Oracle about Real-Time Decision (RTD) Server and Real User Experience Insight (RUEI), so I decided to find out first all the capabilities of Google Analytics.
After half of day of reading the course materials on Google Conversion University, I decided that a challenge might worth 50$, so I took the exam.
More than an hour later I passed the 70 questions exam, much difficult than I expected, with a score of 87%: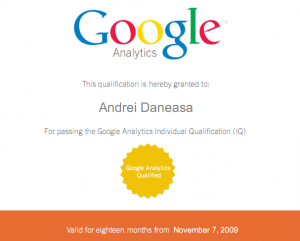 Now having the proof I understood correctly what's happening with Google Analytics, I can jump into conclusions:
GA it's a great piece of software for analyzing trends, keywords and content.
GA it's staying on another server than your web server and the communication is uni-directional. This means GA will get information about your site, but you cannot implement real-time decisions based on GA
GA it's free, same Urchin, so if you own a blog or have a small budget, these will be your choices
Both RTD Server and RUEI are licensed products with a price per processor over 80K USD, which makes them a choice just for big enterprises
RTD Server will be able to serve real-time content based on your behavior, just like Amazon is doing
GA is not able to track 404-pages, loading times, code execution times
To summarize: if you're big, go with RTD and/or RUEI. If you're not so big, stay with GA, Urchin or other free stuff like them.
Related posts:

certification
,
certified
,
GA
,
google analytics
,
IQ
,
oracle
,
RTD Server
,
RUEI
,
Web