Posted by:
Andrei
in
Books
,
PHP
,
Programming
PHP is one of my preferred languages. I've been using it for almost 10 years, since version 3, I witnessed the release of 4.0… in some words: I have a bit of experience.
I've been given by Packt one of the latest PHP books they published, called "PHP 5 e-Commerce Development". The title sounds very promising and I expected to get an update on the latest technologies and techniques related to e-Commerce out of it.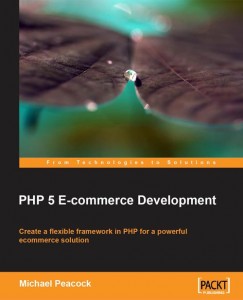 First, the book is following what it says in the title, creating one e-Commerce site from the ground. From authentication to discount codes, everything is covered by the book. It touches also some APIs from payment gateways and Google. So who wants to have a ride in knowing how to build an eCommerce site with PHP 5 should read the book.
If you want just the positive feedback you should stop here.
Secondly, I don't think the book has a well defined target, because author's own framework is used all over the book and the explanations are not sufficient enough in my opinion. When there are so many frameworks on the market, it's a very high chance that the users to use one of these frameworks (not the author's one) to build the eShop. In this case most of the code is useless and you'll remain just with the explanation of the logic behind. I also expected more specific info on payment processing, SEO, marketing, newsletters, admin alerts, and not necessary all the source code out there.
I reckon I didn't read the description, excerpt or anything else about the book before starting to read it, so that's why I was a bit dissapointed. The book's description on Packt is correct: "This is a fast-paced tutorial focusing on creating a framework and using it to build an online store through an ongoing case study. Later chapters include examples to illustrate how easily the framework can be adapted for different situations. The framework and code are enhanced and built upon with each chapter, adding more and more functionality. ". So online store is just a case study, the book is focused on the framework.
However, the book is still very interesting for people that want to create their own in-house light framework and that don't want to rely on a fat framework like CodeIgniter, phpCake, ZendFramework.
My conclusion: a nice reading, 4 stars out of 5, but if you don't plan to use the framework presented in the book, then the source code is too much and hard to follow.




(4.0/5)
openSource e-shop solutions: prestaShop, osCommerce.
Enjoy!
Related posts:

book review
,
ecommerce
,
michael peacock
,
packt
,
PHP