Posted by:
Andrei
in
Books
,
PHP
,
Programming
PHP is one of my preferred languages. I've been using it for almost 10 years, since version 3, I witnessed the release of 4.0… in some words: I have a bit of experience.
I've been given by Packt one of the latest PHP books they published, called "PHP 5 e-Commerce Development". The title sounds very promising and I expected to get an update on the latest technologies and techniques related to e-Commerce out of it.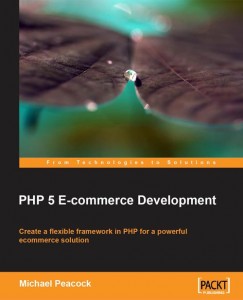 First, the book is following what it says in the title, creating one e-Commerce site from the ground. From authentication to discount codes, everything is covered by the book. It touches also some APIs from payment gateways and Google. So who wants to have a ride in knowing how to build an eCommerce site with PHP 5 should read the book.
If you want just the positive feedback you should stop here. Read the rest of this entry »
Tags:
book review
,
ecommerce
,
michael peacock
,
packt
,
PHP
Comments Off on Book review: PHP 5 e-commerce Development by Michael Peacock (Packt Publishing)